Those who love to tee-off will love the hotels close to golf courses in the Cumbria area. Finding hotels Cumbria golf course included isn't hard, and there are some gorgeous options for a luxury weekend away. Take a look at the hotels that we have in Cumbria with golf courses below!
Farlam Hall Hotel & Restaurant
Cocktail bars and a beautiful terrace? Farlam Hall Hotel and Restaurant is located close to a golf course, with activities like cycling available in Brampton. Hadrian's Wall and Gretna Green are not far away. The restaurant received two rosettes, and the local produce is cooked to perfection! All of the rooms here are furnished to a high luxury standard and guests will be able to enjoy themselves in the grounds, with local towns not far away.
The Buttermere Court Hotel, Buttermere
2km from the beautiful Buttermere is the Buttermere Court Hotel. With restaurants, accommodation and free parking, guests will be most comfortable here and be able to enjoy gold, too! Families are welcome, too, but it's the perfect location to relax.
For beautiful surroundings and breathtaking scenery, the Derwentwater Hotel is located a short 3.2km from Keswick. EAch room carries its own charm and the restaurant, Deer's Leap offers a mix of both modern and traditional dishes for guests to enjoy. The grounds carry 18-acres for you to enjoy, with golf, walking and cycling all available.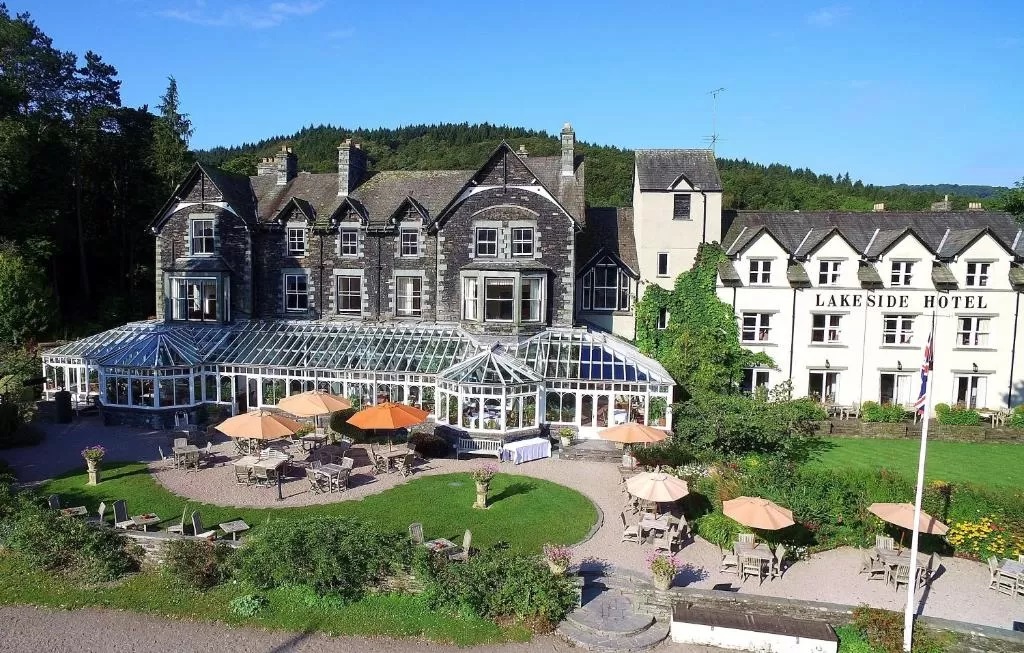 An Aveda Destination Spa Hotel, Lakeside Hotel and Spa sits on the southern shore of Lake Windermere. You get beautiful views, comfortable and opulent furniture and a 17m pool! The wonderful spa treatments are available here, with plenty of space to relax and enjoy your surroundings. Relax in the Oval Room after a day teeing off, and take on a massage indulgence in the spa treatment rooms, too. It's the perfect location for Bowness and Ambleside, and the traditional breakfasts here are inclusive in the room rate.
Cedar Manor sits at the very heart of the Lake District and a short stroll away from cafes and shops. The country house is 150 years old, and it retains some of the original features while being as modern as it comes with iPod docking stations and flat-screen TVs! With beautiful gardens and a sizable estate, Cedar Manor offers plenty of activities and enjoyment on the course nearby, too.
Best Western Garstang Hotel
Bowgreave Drive, Garstang
Garstang is a small market town, and this family-owned hotel is a beautiful space for a golf weekend. The country hotel and golf centre gives you that 18-hole course you're looking for with the country feel. Who doesn't want log fires and stone walls, delicious food and an amazing service?
Crook Road, Bowness-on-Windermere
Upon a hill overlooking Windermere is Linthwaite House Hotel. This hotel offers plenty of activities, from nearby golf courses to chess and boules. The chess? It's a giant outdoor board to enjoy! With the combination of luxury accommodation and surrounding hills and mountains to view, you get a beautiful stay that helps you to relax! The on-site restaurant serves food made with local produce, which is perfectly arranged by Simon Rogan. The Henrock menu offers a la carte options, with sharing dishes and small plates as well as afternoon tea! The sweetest piece of the puzzle alongside the golf course is the use of the two boats that can be used for fly fishing and sailing on the lakes! Book an in-room massage to relax, too, especially after a day walking and teeing off.
Right at the heart of the Lake District is Rothay Manor Hotel. This is a country house hotel offering a restaurant with 3 AA rosettes, landscaped gardens and antiques and fresh flowers at all times. Ambleside Is a short walk away, and the modern restaurant offers home-made preserves and jams, which can really round-off your stay! If you fancy afternoon tea, you can get 3-tier platters as a perfect option for guests. The food is fresh, the views are amazing and the chance to indulge in activities is right here.
Applegarth Villa, College Road, Windermere
Yet another perfect option for a nearby golf-course hotel is Applegarth Villa. A Victorian mansion house located close to Windermere village, you'll enjoy Egyptian-cotton linens and power showers to help you to relax after a long day on the courses. The Lake District fells are beautiful to view and stroll through, and the restaurant on site offers an amazing menu. The cosy bar is there to welcome you with beers, wines and spirits on the menu. The restaurant is for adults only, but it does make for a peaceful meal in the evening. Take time to explore the environment – you won't want to miss anything at all!