The Lake District is best known for one particular location, and that's the area surrounding the majestic Lake Windermere. The lake, being the largest in the entirety of the Lake District, is a natural focal point for holidaymakers looking to experience this stunning part of the world. And while there are plenty of other gorgeous beauty spots across the Lake District, Windermere has rightfully earned its place as the most famous. The vast expanse of water is breathtaking, and the scenery and landscapes surrounding it – trees, hills and mountains – are all reminders of just how jaw-droppingly magnificent mother nature can be.
As a result of its fame and eye-catching beauty, Lake Windermere is perhaps the most sought-after place to stay in all of the Lake District – and, indeed, in all of the United Kingdom. Tourists flock from far and wide to come and experience Windermere, and as such, the area surrounding the lake is a booming industry centred around holidaymakers. At the centre of this industry is a huge selection of hotels all looking to benefit from the location. But with such a variety of accommodations on offer, how can you know which ones are worth staying in and which are best to avoid? Never fear, because in this article, we've used our expert knowledge of all things Lake District to put together a comprehensive list of our favourite Lake District hotels. You won't be disappointed if you take our advice.
Cragwood Country House Hotel
Ecclerigg, Ambleside Road, Windermere
Situated on the billowing shores of Windermere, Cragwood Country House Hotel is the choice for you if you're really wanting to enjoy all of the best that nature has to offer in this part of the country. Obviously, this Windermere hotel overlooking the lake allows you to really admire the breathtaking expanse of Windermere. And a special touch is the fact that Cragwood Country House also boasts its own private jetty stretching out into the lake, meaning it's an excellent spot to peacefully enjoy the tranquility of this vast, vibrant body of water. But this hotel offers even more by way of natural beauty. It's in the centre of a secluded 20-acre estate, consisting of marvellous landscaped gardens and woodland areas. So there's plenty of greenery to enjoy as well as the lake itself. A brilliant spot for enjoying the great outdoors.
All this, and we've not even spoken about the hotel itself yet. In fairness, when the location is this good, you'll forgive us waxing lyrical about the scenery you can enjoy if you choose to stay here. But obviously, it's not all about the local landscape. Fortunately, the Cragwood Country House Hotel provides 4-star luxury. All guest rooms have modern, en-suite bathroom facilities, extra comfy beds and flat screen TVs, as well as tea and coffee making facilities. The range of rooms on offer is impressive too – from family rooms to opulent four poster rooms, there's a huge variety of different suites to choose from, designed to meet the needs of anyone who's looking to enjoy a Windermere holiday.
This hotel is actually dog friendly – making it ideal if you just can't face the prospect of leaving your canine behind when you get away on holiday. With those gigantic gardens for you and your pooch to explore, there are plenty of enjoyable walks available to you. Cragwood Country House also boasts its own restaurant, serving seasonal local produce across an eclectic, creative menu. Whether you're after a tried and tested favourite or something a little more adventurous, there'll be something on the menu for you.
Applegarth Villa Hotel and Restaurant
Applegarth Villa, College Road, Windermere
We've got a little confession in regards to this choice. The Applegarth Villa Hotel doesn't actually overlook Lake Windermere – even though it is just a very short walk to the shores of the majestic lake. But there's no way we couldn't include it when listing our favourite Windermere hotels. Because if you're looking for luxury in this stunning Lake District setting, we really think there's no better place to stay than the Applegarth. This beautiful 5-star hotel is as luxurious as you're going to find anywhere in the country. Set in a magnificent mansion, the hotel oozes class and comfort. It's nestled in the middle of the quaint Windermere village, so there are plenty of amenities nearby too if you're looking to get out of your room and maybe visit some local restaurants or pubs, or do a bit of shopping.
This is the ultimate getaway for couples looking to have a romantic Lake District vacation – the hotel is adults only. Ideal for getting away from the kids for a couple of days (we know it's naughty to say, but who doesn't love a bit of peace and quiet every now and then). The facilities at the Applegarth are second to none. There are a range of rooms at different price points, but for the absolute maximum in luxury, we would recommend booking into one of their sensational hot tub suites. The list of 5-star features you'll benefit from is practically never ending. Super king size bed, 55-inch TV, mood lighting, underfloor heating, and much more. There's a double size bath with a TV, so you can catch up on your favourite shows while you're having a soak. And of course, the primary feature of a hot tub suite is the hot tub itself. Situated on your own private terrace, you can relax with your special someone. And when you want to refill your glass or have a top up, don't worry about making a chilly run to the drinks fridge – the in-house butler will take care of that for you!
There are plenty of package deals available to bring prices down and allow you to experience the best of this wonderful hotel. It'd be rude not to mention the on site restaurant, too. The Villa Restaurant provides a delicious, extensive menu of top class dishes for you to choose from. There's a massive wine list, so you can select an exquisite vintage to try. And at The Villa Bar, you can unwind with a pint, cocktail or rare whisky from the bar's large whiskey menu in a comfy, laid back setting. True bliss near the shores of Lake Windermere.
Newby Bridge Road, Windermere
Relaxation is at the heart of the Beech Hill Hotel and Spa. And you'll enjoy unparalleled R and R in a simply breathtaking setting overlooking Lake Windermere. First and foremost, we've got to talk about the spa facilities, as it's these that really set the Beech Hill Hotel apart from the rest. Its Lakeview Spa combines a wealth of wonderful facilities and treatments with a view that's out of this world. There's a gorgeous 40-ft indoor pool, a Himalayan sauna, an aromatic steam room, and three treatment rooms where a range of massages and beauty treatments are available. But best of all are its two outdoor 'Vitality Pools' which are effectively hydrotherapeutic massage hot tubs – and they're both on a terrace on the edge of Lake Windermere. You can sit back, relax, and enjoy the marvellous views while in your hot tub. We're not exaggerating when we say treating yourself to a dip in one of these hot tubs makes you feel like a movie star.
The hotel is relatively large with a range of 55 bedrooms to choose from – you'll find the perfect room to suit you. And they've got plenty of luxury features to enjoy, including indulgent Gilchrist and Soames toiletries and flat screen TVs. Again, Beech Hill is another hotel that's perfectly suited to busy couples who are looking to get away from it all and enjoy a romantic weekend away in the Lake District. Room service is available to all rooms – so you don't even have to get out of your pyjamas when you want to enjoy a delicious meal. But if you do decide to have an amble down to the hotel's restaurant, Burlington's, you'll find a menu packed to the rafters with the very best local produce. Specialising in both French and English cuisine, the menu blends the contemporary with the classic, and is a truly delightful dining experience.
The Langdale Hotel and Spa
The Langdale Estate, Ambleside
For any walkers looking to blend some fantastic, breathtaking Lake District routes with a touch of luxury comfort, then this is the place to stay. The Langdale Hotel and Spa gives you the best of both worlds. Situated on its own 35-acre estate, the Langdale Hotel is perfect for cutting yourself off from the normal world and getting away from it all and back to nature. Seasoned fell walkers will be delighted by the Langdale's proximity to the famous Old Man of Coniston circular walking route. This legendary walk takes in some of the Lake District's most popular sites en route, and is a top choice for anyone looking to enjoy remarkable panoramic views of this beautiful part of the world. The views even encompass sights such as Scafell Pike (England's largest mountain), the Pennines and as far out as the Isle of Man.
We should talk about the accommodation at the Langdale. Because whatever you're after, the chances are that this stunning hotel estate will meet your needs. The hotel building itself is opulent and contains a wide range of classic hotel rooms and suites. But also on site on the Langdale's estate are a bunch of 5-star self catering lodges, cabins, and cottages. For a more laid back affair and a holiday on your own terms, these are the perfect choice. These unique lodges are packed full of luxury, modern facilities and will have you feeling at home in an instant.
Also on site at the Langdale Hotel is its Brimstone Spa. Exclusively for residents, there's no better place to relax and reinvigorate your weary body after a hard day exploring the local terrain on foot. Here, you can enjoy a range of massages and spa therapies that'll soothe you and leave you feeling refreshed. Elsewhere on the estate are other leisure facilities, including an indoor heated swimming pool and also a gym (which we'll forgive you for not using if you're out and about exploring the local fells all day every day). Delicious food awaits at the Stove Restaurant and Bar, with a specially cultivated menu of old favourites and some contemporary French dishes, as well as some international classics.
This traditional, 17th-century lakeland inn may well be the accommodation most tailored to walkers in the Lake District in this entire list. The Queen's Head Hotel is very much aimed at walkers and those wishing to explore the Lakes. The comfortable, cosy rooms – some dog friendly – are modern and extremely welcoming, and will be a welcome indoor haven after you've spent the entire day out and about on your feet. Big beds with crisp linens, ensuites and flat screen televisions all come as standard, and the staff at The Queen's Head really go all out to ensure walkers are made to feel welcome. They offer boot bags for muddy boots if you've been out in bad weather, packed lunches to take out with you so you can eat on the go, and even some printed walk guides to help you explore the local area and experience something a little different within the local landscape.
Aside from their own printed walks that they offer, The Queen's Head Hotel is also extremely near to the beginning of the National Trust's popular Townend and Troutbeck Valley walk. This stunning circular walk gives you panoramic views of Lake Windermere, the surrounding fells, and plenty of unique sights you'll find and enjoy along the way. There's private parking at the hotel, so getting there in the car is made easy. Furthermore, the seasonal pub grub on offer at The Queen's Head is hearty, filling, and the perfect tonic when you're weary after a long day out exploring.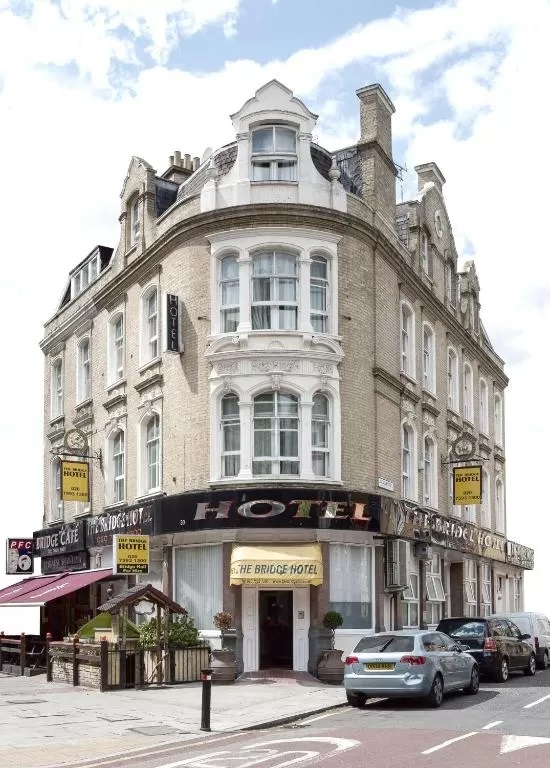 If getting away from civilisation and all the entrapments of modern life is what you're after, then the Bridge Hotel in the heart of the Buttermere valley might just be the best place for you. This is in a brilliant spot, and is one of the best places to stay for walkers in the Lake District. That's because its idyllic, isolated location far away from big towns and villages means it's smack bang in the middle of sprawling Lake District terrain stretching as far as the eye can see – perfect for exploring. It's also great for forgetting about normal, everyday life and really immersing yourself in the moment and the breathtaking natural location. The Bridge Hotel prides itself on being very much cut off from the rest of the world. As such, one of its quirkier features is that it's got no televisions, no radios and no mobile phone signal – a true, legitimate escape.
The hotel is dog friendly, so if you're looking to take your canine away on your Lake District getaway then you can. There are too many spectacular walking routes in this area for us to list all of them, but one of our favourite places to explore is the nearby Crummock Water. This picture-perfect lake is rumoured to be one of the most photographed spots in the entirety of the Lake District, and when you see it for yourself it's easy to understand why. The twinkling expanse of the lake itself is framed by valleys, woodlands and fells. One particular sight to look out for is the so-called 'secret valley' of Rannerdale, where a legendary battle is said to have once taken place between local settlers and the invading Normans. It's now covered in gorgeous bluebells, and walking beside it is a feast for the eyes. The woodland leading down to Crummock Water is also a haven for red squirrels, so if you're lucky you might catch a glimpse of one of these rare creatures while you're out on your walk.
The Mill Beck Dining Room at the hotel is an ideal spot to get some rest and relaxation after a busy day out walking and taking in the local scenery. A traditional menu is served with plenty of classic dishes. And if you do need to touch base with the outside world, the hotel does provide complimentary WiFi, so you're won't be totally cut off – unless you want to be! Breakfast is available as an add-on for all rooms, and the hotel also has a variety of self catering accommodations on offer, if you want more of a relaxed, do-it-yourself walking holiday in the Lakes.
Last but not least on our list of top places to stay in the Lake District for walking is the Cuckoo Brow Inn, surrounded by local history and top-class scenery. Just three quarters of a mile from the home of legendary children's author Beatrix Potter, this is in a prestigious location that's steeped in culture. The remarkable location is perfectly suited for long, winding countryside walks exploring the inspirational terrain and landscapes of this area of the Lake District. Just a short distance from three top Lakes locations – Hawkshead village, the town of Ambleside, and the majestic Lake Windermere – you've got a wealth of places to explore. The marauding walks around Windermere are not for the faint hearted, but will give you spectacular views of one of the world's most famous bodies of water.
In Ambleside, you'll find a classic lakeland town centre with plenty of shops, pubs, restaurants, and other amenities to enjoy. And from Hawkshead there are numerous walks to set out on – including our personal favourite, the Tarn Hows walk. This six-mile, circular walk encompasses both open valleys, countryside and woodland, and is a great way of seeing the versatile, eclectic landscapes that this part of the world is famous for. And you'll also enjoy some striking views of some of the region's most famous fells en route.
Rooms at the Cuckoo Brow Inn have been designed with comfort in mind, and offer everything you need to wind down and relax after a long, challenging walk. All have ensuite facilities, and there's also a bar and dining room for grabbing a well deserved pint or an evening meal. An ideal spot for walkers in the Lakes.