Engaged couples have a big decision in front of them when they are choosing things for their wedding day, and the venue is the biggest decision they could make. Small weddings are popular at the moment, with people keeping their special day as little as possible due to social distancing and COVID-safe rules. The good news is that if you were looking for a wedding venue in the Lake District, you can find several that cater for smaller wedding ceremonies. Whether your ceremony is catered for two or for fifty, your day will be just as beautiful in any one of these intimate locations below. With their own character and unique setting, let's take a look at seven of the best small wedding venues in Lake District.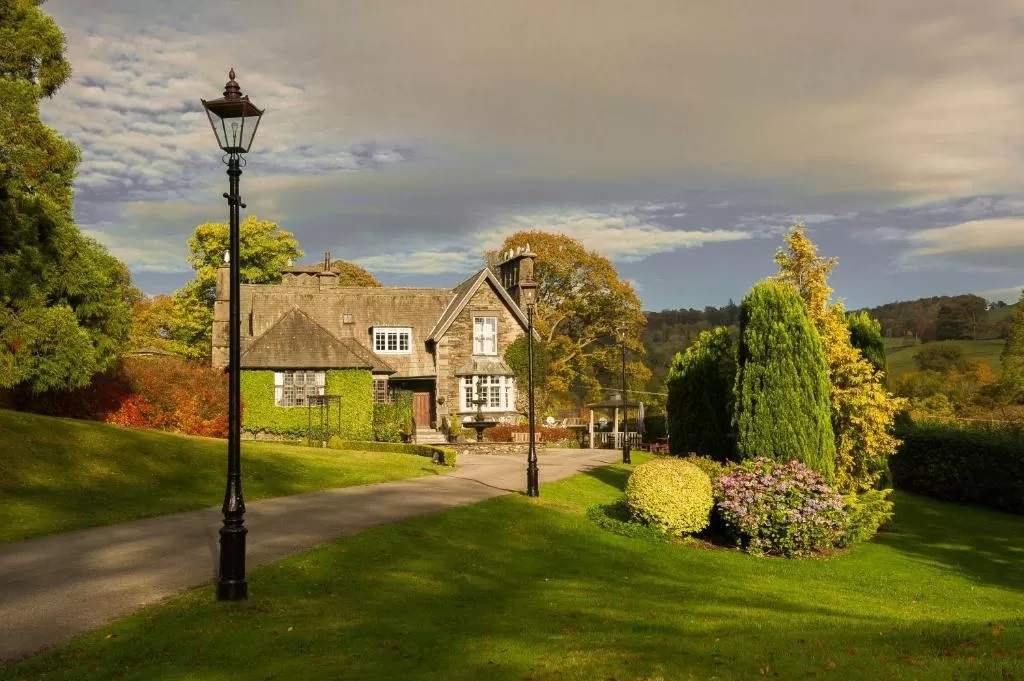 Nestled in a leafy valley right beside the River Troutbeck, Broadoaks Country House is a 5-star location for your wedding day. Set in 7 peaceful acres, there is a venue perfect for small weddings, as well as a hotel and elegant restaurant attached. With some of the original 1836 Victorian features of open fires and period furniture, Broadoaks offers William Morris inspired designs. The restaurant is Michelin-recommended, and some rooms have views of the river or Lake Windermere. Originally the residence of a Victorian gentleman, Broadoaks offers romance and style for any engaged couple. The grounds are well-maintained and there is a range of options on offer for your wedding day to go off without a hitch (so to speak!).
Cragwood Country House Hotel
Lying on the shores of Lake Windermere sits Cragwood Country House Hotel. With acres of beautiful landscaped gardens, you get the mix of hotel, restaurant and wedding venue all in one. Just five minutes from the centre of Windermere, Cragwood Country House Hotel is perfectly located for your small wedding. The 20 acres of gardens make for stunning wedding photos, and you will find that Cragwood Country House Hotel offers a huge range of wedding packages. The best bit is that you get that exclusive use you're searching for, and the more intimate weddings are catered for spectacularly with a "Just Us" package.
Merewood Country House Hotel
Right on the edge of Lake Windermere sits Merewood Country House HOtel. Built in 1812, this beautiful building retains so many of the original features that make a wedding day as beautiful as can be. In 20 acres of landscaped gardens, your wedding will be magical. Each room in the country house has en suite bathrooms and the facilities that you need to enjoy your big day. It is set in an elevated position overlooking the most beautiful surroundings, and with the "Just Us" package, you get the small wedding of your dreams. The venue can host up to six people in this package, making it a beautifully intimate option.
Right beside Lake Windermere is Briery Wood Hotel. It's a two-minute drive from Ambleside and is surrounded by fields and woodland, which makes for an idyllic wedding venue. A traditional venue, this one has its own restaurant that looks out onto landscaped gardens, which would really enhance your wedding breakfast! Set in seven acres, you get the benefit of secluded gardens moments from the shore. There are four wedding packages available and you get the exclusivity without the exclusive price tag. No matter which package you choose, your small wedding is going to be beautiful.
Holbeck Ghyll Country House Hotel
Right over Lake Windermere and Langdale Fells sits Holbeck Ghyll. A 4-red star country house hotel, this venue has a boutique spa attached and it works as a traditional Arts and Crafts house. Sitting among the hills above Windermere, you get the fabulous view of the lake you could want for the backdrop of your wedding photographs. You get reception drinks as part of your intimate wedding package, and you get a combination of relaxed luxury and exclusivity, too. You will feel like you're in a home from home, with your celebrations afoot. You get an outstanding service and elegant food, and catering for the smaller weddings is easy here!
If you are looking for an elegant country mension for your wedding day, Storrs Hall is a winner. Sitting in 17 acres of landscaped grounds next to Windermere, you get the boat house, jetty and gazebo here to make your wedding day your own. The wedding photos agains the lake and hills backdrop make for a great shot at excellent wedding pictures. Storrs Hall offers luxury to all wedding couples and their guests, and your big day will be unforgettable as a result. Storrs Hall is a grade-2 listed Georgian mansion, and its elegant and yet informal interior is perfect for those looking for a warm, comfortable venue for their wedding. Even the smaller ceremonies are elegant here and the food and drink are delicious.
Finding the perfect wedding day isn't always easy when you are looking for a smaller, more intimate day. However, with these seven options, you have plenty of choices to get you started. Small wedding venues in the Lake District are the perfect way to tie the knot, so why not have a tour of each and see what will suit your particular vision for your big day? Congratulations on your wedding day!