If you are on the lookout for luxury hotels in the Orrest Head area of Cumbria, you're going to love the selection of hotels we have for you below.
Applegarth Villa and Hotel
Applegarth Villa, College Road, Windermere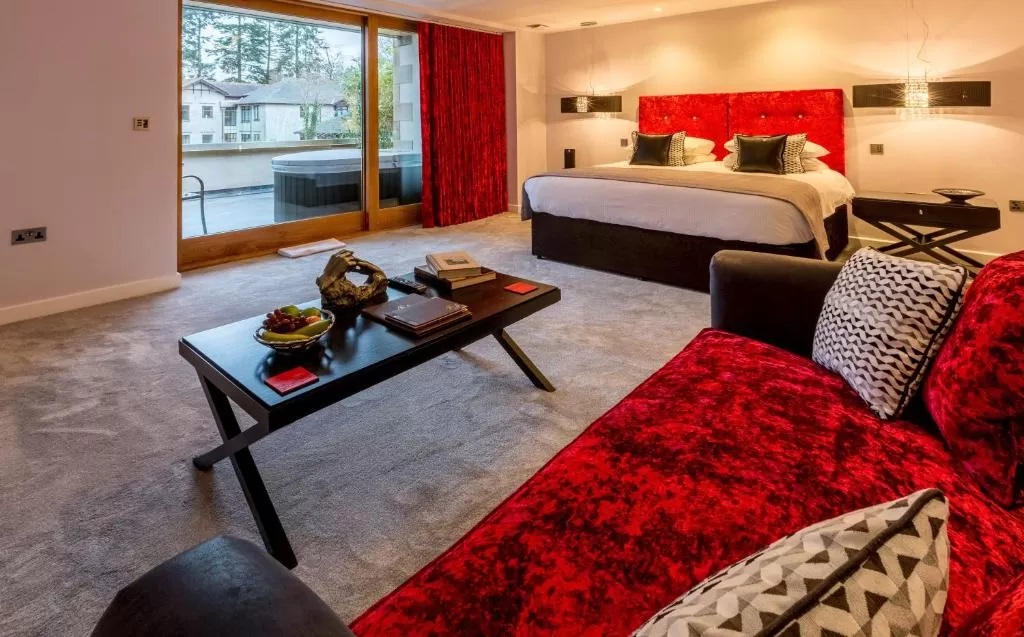 Right on the edge of Windermere village is Applegarth Villa and Hotel. A striking mansion from the Victorian era, Applegarth has been upgraded to include a conservatory restaurant, free parking and technology to make your stay luxurious. You'll find elegant rooms with TVs and iPod docking stations and it's in easy reach to Windermere Rail Station. Each room is ensuite and has Egyption cotton sheets and linens for you to relax in. The bathrooms are fully fitted with power showers and the rooms here are adult-only. Each room comes with free bottled water and digital radios for your enjoyment, too. The restaurant here proudly features local produce and offers an amazing menu that you will love. The Applegarth has free Wi-Fi, but with the scenery in Orrest Head, you won't want to sit on your phone! It's set in a quiet street, and the hotel and restaurant are both family-run, and it's only a short drive from the M6 if you want to explore further.
Lake Road, Bowness On Windermere, Bowness-on-Windermere
In the village of Bowness right near to Lake Windermere is Lakes Hotel & Spa. This luxury hotel near Orrest Head has a spa and pool onsite, with a bar, two hot tubs, a steam room and even a sauna! The plunge pool is stunning and an excellent place in which to relax. If you want a bite to eat the restaurant offers local produce for modern and traditional cuisine. You'll find a pub with real ale in the spa, too, and you'll love the chance to take on afternoon tea on the lake view terrace. Each room is airy and bright, and there is free coffee facilities and tea in all of them. Some of the rooms come equipped with hot tubs and a private balcony, so make sure that you ask for this if you are looking for it specifically. If you would like to head further afield, there are shops and restaurants a two-minute walk away!
For those looking for rustic luxury, Cedar Manor is at the heart of the Lake District, not far from Orrest Head. This 150-year-old country house has quiet gardens for guests to enjoy and it's very close to the town centre. There is a lounge bar, free parking and a rail station nearby. There are still some original features mingled in with the modern options and guests will love the full English breakfast available each morning. The lounge, bar and restaurant all look over the gardens, which offer exciting views and a photo opportunity! It's one of the most luxurious hotels near to Orrest Head.
The Lamplighter offers all guests a relaxing lounge, a huge car park with free parking for those staying and free Wi-Fi for guests. The building has been well-maintained and keeps some of the original features. Those grand fireplaces and huge windows give it a luxurious edge, which is exactly what you look for in a luxury hotel! It's only a couple of minutes from Windermere Railway Station, too, so if you don't drive it's not hard to find. Orrest Head is ten minute walk away and the lake is a simple 20 minutes and close to everything.
Low Wood Bay Resort & Spa
Ambleside Road,, Windermere
Right on the shores of Windermere, you'll find Low Wood Bay Resort & Spa. This historical space has been the first to offer a number of facilities to guests. There is a wide range of dining options in the restaurant – Blue Smoke on the Bay. You can get all meals cooked on a woodfired grill, and you'll also get a traditional setting with local produce to enjoy, too. As a guest at the Low Wood Bay Resort you'll have access to the Health Club. This will include a swimming pool, steam room, sauna and fitness suite. You'll have an outdoor thermal experience at the spa, too, and you'll have a range of treatments and spa packages on offer. You do need to pre-book here, though, and the spa packages need to be pre-booked too. The one stand-out feature here is the Watersports Centre. You can enjoy the private jetty and take a water bus trip or enjoy any number of Windermere Lake Cruises. Car parking is provided for guests for free, too.
Ambleside Road, Windermere
Those looking for luxury will love this family-run resort and spa. Based in the Lake District, this accommodation comes with a luxurious indoor pool, beautiful grounds and gardens and free parking and Wi-Fi. You'll have views of the mountain and the Lake Windermere from the elevated terrace. Guests will love the cosy log fire and lake views at the same time, and a full English or continental should you want it is available. For Peter Rabbit lovers, Hillthwaite is close to the World of Beatrix Potter, and the home of William Wordsworth isn't far away, either. Hillthwaite guests will love use of the spa, and packages are available for an added cost.
Windermere Boutique Hotel
A short kilometre away from Lake Windermere is Windermere Boutique Hotel. It's at the very heart of the Lake District and this is a luxury hotel offering home-cooked meals and the "home away from home" experience. With the rail station only 15 minutes away, there is plenty to see and do while you are staying. Windermere Boutique Hotel was originally the second home of an Edwardian gent, and still has so many of the original features. Guests will love the open fires and king-sized luxury throughout this hotel. Bowness is a short drive away and there is plenty to see in the surrounding National Parkland. It's wonderful to spend time walking and cycling in the local area, and the grounds are perfect for an afternoon stroll. Take the time to explore this luxurious boutique hotel – you won't regret your stay.