Getting back to nature can be a relaxing, rewarding experience – and perfect for a holiday to get away from the hustle and bustle of everyday life. The Lake District is the ultimate destination for this kind of trip – unbeatable views, loads of outdoor pursuits and plenty of relaxation to enjoy. But if you're a dog owner, you'll know how difficult it is to get away on a break, wherever it may be, when you've got your four-legged friend to think about. It can be tough to find someone to look after your canine while you're away on holiday, and even tougher thinking about leaving them for any extended period of time.
For many, the best solution is taking their dog on holiday with them. However, therein lies another problem – how do you find a pleasant, enjoyable accommodation that'll let you take your pet with you? Trawling through the internet to find something suitable is a thankless task, and often when you do find an accommodation that'll let you bring your dog, you find it doesn't quite look like the kind of thing you want.

We don't want you to have to compromise on your holiday and end up staying somewhere that doesn't really tickle your fancy. A holiday should be a time to treat yourself, get away from normal life and really forget about your troubles. So we've compiled this list of some top Lake District accommodations – from cottages to caravans to hotels – that'll let you, your family and your dog enjoy a top-notch break in the Lakes. Here, you're certain to find something that you – and your dog – will love.
Situated on the shores of the world famous Lake Windermere – the area's largest lake – the Wateredge Inn is one of our absolute favourite dog-friendly Lake District accommodations. The inn is a wonderful hotel with comfortable, bespoke bedrooms – and of course, lots of them are dog-friendly. But what else does the Wateredge Inn have going for it?
Well, as we already mentioned, the hotel is plonked right on the banks of Lake Windermere, so it's pretty unrivalled when it comes to offering stunning views of one of the world's most celebrated stretches of water. The hotel has a pier reaching out into the lake, as well as lots of outdoor seating beside Windermere in its own beer garden. Here, you can enjoy a drink while admiring the remarkable beauty of nature, or have a delicious meal. There's plenty to choose from in terms of refreshment. The bar at the Wateredge Inn serves six cask real ales, as well as a selection of other popular beers. There's an extensive wine list, and also a few cocktails to enjoy. And if the weather doesn't quite suit beer garden drinking, you'll be glad to hear that there are plenty of areas of the bar where your four-legged friend is more than welcome. For particularly cold nights, the bar's got a wonderful fireplace which you can sit beside, get cosy, and have a few night caps.
We've not even mentioned the grub yet. The Wateredge Inn's best of British menu specialises in serving excellent, locally-sourced food at an affordable price. The Inn's hearty food can be enjoyed in the bar, by the snuggly log fire we mentioned earlier, on a table with a lake view or even alfresco on the lakeside terrace. The choice is yours. A particular favourite on the menu is the fantastic local Cumberland sausage – a real staple of the area. There are also plenty of other top British meals served up, including beer-battered fish and chips and a top-class Sunday roast.
The building of the Wateredge Inn itself is spread across two former 17th-century fisherman's cottages, so it's alive with history. But don't let that fool you – the bedrooms most certainly are not from the past. The dog-friendly rooms at this Lake District inn are contemporary and modern, with flat screen TV's, big beds, fresh linens, en-suites and showers, and – of course – stunning lake views. Some rooms are available with outdoor seating looking on to Lake Windermere too. When booking, be sure to select the bed and breakfast option to pre-book a delicious, home-cooked breakfast and save a bit of money in the process. As we've already said, those sausages aren't to be missed.
Finally, we should mention a bit more about the surrounding area – which, aside from being stunning, is also super-central and great for branching out and exploring more of what the Lake District has to offer with your dog. There are boat trips, loads of outdoor pursuits and plenty of places to walk and hike all close to the Wateredge Inn. The nearby town of Ambleside also offers plenty in terms of bars, restaurants and tourist attractions to keep yourself entertained (although there's often a bit of live music to be enjoyed at the Wateredge Inn, so you might not even need to leave the hotel to find something to do!) An excellent spot for a Lake District getaway with the whole family – including your dog.
St. Mary's Mount Belmont, Ulverston
For something a little more self-contained, you might fancy whisking your family and dog away to this Lake District retreat in Ulverston. The Stables is a gorgeous 3-bedroom cottage that's ready to welcome you and your canine with open arms. This classic, authentic stone, dog-friendly Lake District cottage is packed full of modern amenities, and can sleep up to six guests (plus your four-legged friend). It's ideal for longer stays where you want to really embrace everything the Lake District has to offer, and is a perfect spot for a self-catered Lake District holiday with your dog.
The hosts at The Stables ensure everything is ready on arrival for your stay. Contactless check in and check out is available – a big plus in these uncertain times. The cottage comes equipped with lots of the essentials you'll need during your stay – washing up liquid, dishwasher tablets, sponges, soap, kitchen utensils and more. So everything will be on-hand and ready to go when you arrive. And the accommodation itself? It's the perfect mix of genuine, classic Lake District architecture and modern touches, in a really spacious property that'll let you stretch out during your holiday. A comfortable living room features two comfy leather sofas and a flat screen TV – ideal for unwinding in front of the box of an evening after a busy day exploring the Lakes. An ultra-contemporary kitchen is fully equipped with a fridge-freezer, microwave, dishwasher, oven and more. There are big beds and fresh bedclothes, and three modern, stylish bathrooms, with features including super-powerful showers and free-standing baths. A break at The Stables is the kind of holiday that really makes you feel at home. There's also complimentary WiFi.
Our favourite bit of this unique dog-friendly cottage in the Lakes is the lovely private garden-terrace, which includes your very own barbecue to use (weather permitting, of course). Here, you'll benefit from a lovely outdoor space to relax in – ideal if you get some sunny weather and fancy having a drink or a meal outside. That barbecue is just waiting to be fired up.
The property is amazing, and you're certain to feel relaxed at The Stables. But the real brilliance of this particular accommodation is its location. It's situated in a lovely, quiet area surrounded by a walled garden – you're sure to get an excellent night's sleep. Brilliantly, though, you're also only a short five-minute walk from the town centre of Ulverston. Here, you'll find a quaint little town with a wealth of options for eating out, as well as plenty of pubs and attractions. There's a golf club, leisure centre, wildlife park and aquarium all nearby. And of course, you're only a short drive away from some of the Lake District National Park's most beautiful spots. Ideal for a walk with the dog.
Bolton Head Farm, Gosforth
Now this really is the kind of place you need to stay if you're looking for a Lake District break in the lap of luxury. 1692 Wasdale is an absolutely stunning, dog-friendly Lake District hotel. Situated in the heart of the Western Lake District, it's the ultimate location for exploring the majestic terrain by day and having a comfortable, cosy, luxurious experience by night. This welcoming bed and breakfast offers boutique rooms and suites, with special dog-friendly ones available.
Location-wise, this might be one of the best holidays you can go on in the Lake District with your canine in tow. As mentioned, it's in the Western Lake District – which you probably didn't know is one of the quietest, most unexplored areas of the Lakes. So it's totally perfect for serene, peaceful days out hiking with your dog, taking in the awesome natural surroundings, and really feeling the tranquility that this magnificent part of the world can offer. And even better, the hotel will happily provide delicious packed lunches for hikers on request – let them take care of the prep, and just concentrate on getting out there and enjoying the great outdoors. 
If you do get tired of hiking, there's plenty more to do near 1692 Wasdale. Nearby, there's the Ravenglass and Eskdale Railway. This classic steam railway offers a stunning 7-mile locomotive journey across the breathtaking landscape, and is another great way of taking in the Lake District views – especially if you don't fancy doing them on foot! Culture vultures can head to the Hardknott Roman fort or Muncaster Castle, and soak up some of the rich history the area has to offer. And for the bravest holiday makers, 1692 Wasdale is perfectly positioned for those who are after something a bit more thrilling: the West Lakes Adventure company offer lots of outdoor pursuits, including climbing and kayaking, and also this particular area of the Lakes is renowned for its easy-to-swim stretches of water – ideal for a bit of open water swimming!
The divine location of 1692 Wasdale is second only to the splendour that the hotel itself offers you. The tiniest little details have been painstakingly thought over in designing the rooms and suites, ultimately resulting in a hotel that offers the optimum in style, comfort and luxury. From the moment you arrive, you'll feel at home. Traditional, exposed wooden beams apply a rustic, homely touch, and under-floor heated timber floors ensure a warm welcome. A snug lounge with an honesty bar is perfect for a few relaxed drinks. And all this before you've even got to your room.
When you do get into your suite, you'll be delighted by the extra little touches that make the 1692 Wasdale one of our absolute favourite places for a Lake District mini break. Super king beds will swallow you up and let you sprawl to your heart's desire – an indulgent sleep awaits. Modern en suite facilities, Egyptian cotton towels, Nespresso coffee machines and more are all on hand to give an extra touch of finesse to your stay. There's also a beautiful outside hot tub for all hotel guests to use, with majestic views stretching across the Wasdale valley. And your dog is more than welcome too. You'll be provided with feeding and water bowls, poo bags, and a hose and towel for washing and drying your pooch. Dog-friendly suites also all have access to outdoor patios and a gorgeous open field looking out over the Lake District hills and fells – so when your four-legged companion needs to let off some steam, they can.
Finally, we'd be doing 1692 Wasdale a disservice if we didn't mention the delicious breakfast they provide. Coupling a fully cooked option with a more casual buffet, you can enjoy the best of both worlds in a filling brekkie fit for a king. The cold buffet includes cereals, fruit, juices, yoghurts, and freshly baked pastries and bread. You'll also get a fully cooked breakfast made to order. And if you don't fancy taking the short trip down from your suite to the dining room, the hotel offers room service, so you can enjoy a relaxed breakfast in bed. A marvellous Lake District getaway.
The Lake Lodge Windermere
Wansfell Holme, Ambleside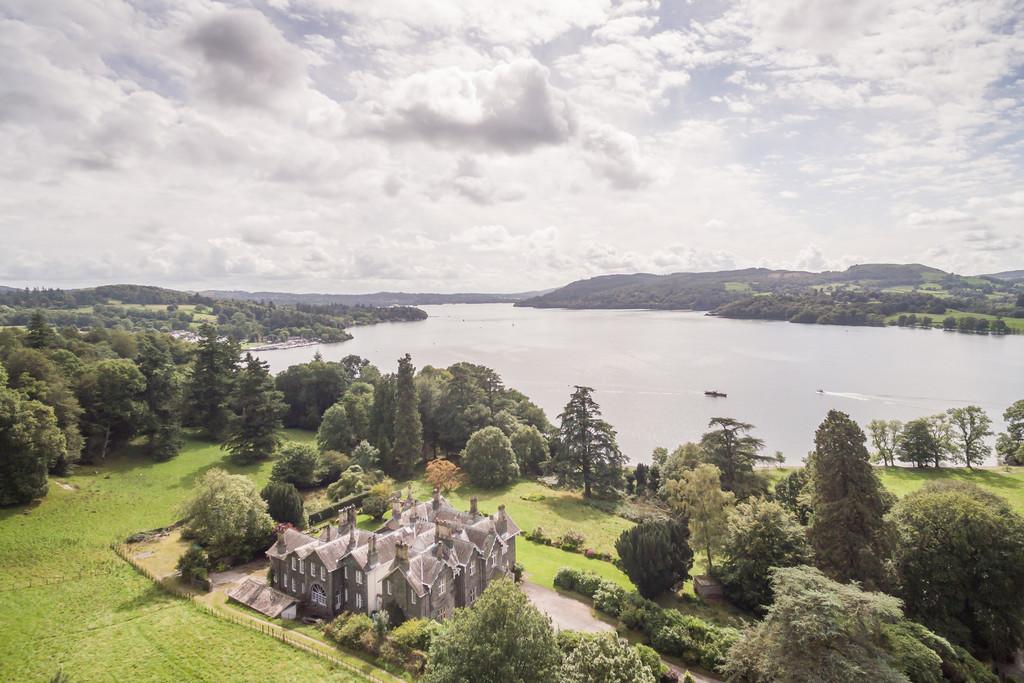 This is another one for those who prefer more of a self-catered affair when it comes to their holidays – but with a touch of historic, palatial class. The Lake Lodge, overlooking Lake Windermere, is a Grade II listed country house that can sleep up to six guests across three comfortable bedrooms. With a rich history, you can be sure of the heritage of this particular holiday home. This dog-friendly house in the Lake District is ideal for a week exploring the sights and relaxing. The house itself was first built in 1830, and originally came with 200 acres of its own land. After a long list of different, noble owners, the National Trust acquired both the house and the land, and decided to sell off the building and return the surrounding woodlands, gardens and fields to nature. But the house has since been transformed into a delightful, modern space for a holiday fit for royalty.
The accommodation itself comes equipped with all the mod cons you'd expect of a 21st century dwelling – but with the added bonus of having that remarkable, authentic 19th century facade on the outside. There's a patio, garden, flat screen TV with DVD player and free WiFi all included – so you won't be short of things to do if you decide to stay in and relax with your pooch. A fully-fitted, fully-stocked kitchen means you can prepare your own meals while you're there – and there's a dishwasher too (because who wants to do dishes on their holidays). 
For this particular break, while we love the magnificent blend of old and new with the house, our favourite thing is the location, which is very unique in itself. First of all, there's the small matter of its position right beside Lake Windermere. This famed, gigantic Lake might just offer the best views in the whole of the Lake District, and the fact you get to enjoy them during your entire stay makes a break at The Lake Lodge Windermere particularly blissful. Unwinding with a few drinks while gazing out over the water is heavenly.
More than that, though, there's the fact that the house is ideal for those looking to add some outdoor pursuits into their holiday. There are some great hiking spots and routes all in extremely close proximity to the property, so heading out for a day of adventure is made easy and hassle-free. There are tons of different fells to be explored and plenty of routes that'll take you along the shore of Lake Windermere, really getting the most out of the natural beauty of the area. Finally, despite the wonderful natural feel of the location, you're not too far from a bit of civilisation, should you want it. Waterhead and the Low Wood Bay Resort are a short walk of just 600 metres away. Here, you'll find pubs, water-sports, shops, and excellent restaurants specialising in top-notch local cuisine. This dog-friendly Lake District holiday is great for those who want a bit of everything.
4-star luxury in the Lakes that you can enjoy with your canine. Ravenstone Manor is a delightful dog-friendly Lake District hotel within a fabulous 19th century manor. This comfortable hotel provides luxurious rooms with an informal atmosphere. Situated in Bassenthwaite, it's in an ideal location for experiencing the many different terrains and benefits of the Lake District. It's smack bang in the middle of a whopping three hectares of its own grounds – so you can have a great explore without even leaving the Ravenstone Manor property. But when you do, you better believe that you're in for a treat. Those lovely grounds we mentioned back on to the foothills of Skiddaw, a majestic, powerful mountain dominating this part of the Lake District's landscape. Gazing up at it will take your breath away. Or you could even gaze down from it – Skiddaw is actually one of the easiest mountains to ascend in the whole of England. With a well-trodden footpath, even the most novice hikers (and their dogs) can enjoy a relatively simple ascent to the peak, where you'll be able to enjoy unbeatable views of this frankly beautiful part of the world. That's one day of your holiday sorted!
Just a five-minute drive away is another stunning beauty spot that's well worthy of a visit. Bassenthwaite Lake is one of the more unique lakes in the Lake District. At 4 miles long, it's one of the largest. But interestingly, it's quite narrow and is also one of the shallowest lakes in the region. This makes it one of the best lakes for some open water swimming! If you want to brave the cold, that is. It is a particularly tranquil swim as Lake Bassenthwaite is pretty quiet, so for anyone willing to take the plunge, it's definitely worth a dip. Or if you'd prefer to stay dry, there are some lovely walking routes that'll take you around the perimeter of the lake and allow you to take it in in all its glory.
We realise we've been waxing lyrical about the location – but that's just because it really is wonderful. As is the hotel itself. As we've already mentioned, Ravenstone Manor is situated within 3 hectares of its own grounds, so it feels brilliantly private and exclusive – you can be sure there'll be no distractions or interferences from the outside world. The hotel itself is excellent too. Comfortable rooms are on offer, with en suite facilities, big, soft beds, tea and coffee making facilities and flat screen TVs. WiFi is also available. And the warm, homely welcome isn't just there for you – your dog is sure to feel right at home too! Ravenstone Manor themselves say they aim to treat visiting pooches just as they treat their guests. As such, they describe themselves as 'one of the most dog-friendly hotels in the Lake District'. There's also a hotel restaurant and bar, serving tasty, local food and drinks at reasonable prices.
The idyllic, sublime location in the countryside beside mountains, hills, and lakes doesn't mean you're too far away from a more civilised hub. The big town of Keswick is just a short drive or bus journey away. Here, you'll find a whole lot more to love. There's a wealth of restaurants, cafes, bars and pubs for you to satisfy all your refreshment needs. Keswick is also renowned for being one of the best places for adventure sports in the entirety of the UK, so you'll find plenty of tour operators offering a diverse range of activities such as climbing, hiking, abseiling, and a huge variety of different watersports including kayaking and paddleboarding. 
For a more casual Lake District break with your family and four-legged companion, Parkgate Farm could be perfect for you. It's a lovely, quaint little caravan park located in Holmrook, on the north west edge of the Lake District. The location lends itself brilliantly to lots of long walks exploring the local terrain, and Scafell Pike, England's largest mountain, is just a short drive away, so Parkgate Farm is in a particularly great spot for any budding adventurers and climbers. As a no-frills, comfortable, dog-friendly accommodation in the Lakes in a top location, we really think it hits the sweet spot.
The caravans themselves are fully kitted out with all the modern amenities you'd expect, with full kitchens, luxurious, comfy beds and full bathrooms. There are walking and cycling tours available nearby, as well as a local pub that serves delicious local pub grub, and also a pizzeria serving proper, stonebaked Italian pizzas. Buon appetito!
There's tons more to do, too. Local attractions include Muncaster Castle, the Eskdale and Wasdale valleys (which are great for a long walk with your dog), numerous local interest museums and even a special attraction dedicated to the local area's long-standing but perhaps unexpected links with the drink rum. This is also a great Lake District stay if you've got kids, as there are several well behaved donkeys and sheep at Parkgate Farm that are happy to meet people. And your dog is more than welcome – the caravans are all dog-friendly. As a more budget option, Parkgate Farm provides a holiday that's still ideal for exploring the Lake District and enjoying top class comfort.