It's no surprise that one of the most popular features holidaymakers look for when booking a trip is an accommodation that can offer the use of a swimming pool. When you go on a classic beach holiday abroad, you'd always expect to have a swimming pool to enjoy. So why, when you're having a bit of a staycation, should you expect any different. It's great to unwind with a relaxing swim on your holidays, and it's also an excellent form of exercise. And any families will know that having a swimming pool can be a massive help in occupying the kids and keeping them happy.
The problem is that a lot of hotels in the UK don't come as standard with a swimming pool. It can be tough to find the perfect accommodation that also has a pool to use. This situation is also true of hotels in the Lake District. While swimming is hugely popular in the region, it's usually of the open water kind – in the many lakes and waterways that stretch across the area. So unless you fancy taking the plunge in some of the freezing water of the Lakes, you're better off with a dip in a proper swimming pool. That's why we've put together this comprehensive list of the 7 best Lake District family hotels with swimming pools – we're confident one of these will be just right for your Lake District family holiday.
Ambleside Road, Windermere
For a full holiday resort experience in the very heart of the Lake District, Low Wood Bay is the perfect hotel for you and your family. Situated on the shores of wonderful Windermere, the hotel is the centre of the Lake District's first ever dedicated holiday resort. As such, it's absolutely ideal for families – you'll never be short of something to do, as there are tons of activities and facilities on offer. All guests at the hotel receive complimentary access to a swimming pool, sauna, steam room and full fitness suite (so if you want to have a bit of a gym session and get the blood pumping you can – though we'd excuse you if you don't, you're on your holidays after all!) The jewel in the crown at Low Wood Bay is, by far, it's top quality watersports centre. A dream for kids and adventurous adults alike, the centre offers a huge range of different experiences and tuition in loads of watersports. Whether you fancy giving waterskiing a go, or you think sailing could be your next favourite thing, the watersports centre will help you try it out. There's kayaking, canoeing, wakeboarding, flyboarding and paddleboarding all available too, so you really are spoiled for choice when it comes to activities.
Best of all, you can also hire boats at Low Wood Bay. This means you can get out onto Lake Windermere and explore the huge lake yourself, really taking in all it has to offer. There are loads of options when it comes to refreshment – there's a cafe, numerous restaurants, a relaxed bar overlooking the lake and even a healthy juice bar, where you can an invigorating smoothie that'll leave you feeling as good as new. And we've not even mentioned the rooms yet! They're totally luxurious. There are king size beds with the freshest, crispest linen you've ever felt. Stunning lake views stretching out over the expanse of Windermere. And ultra-modern bathroom facilities. Treat yourself and your family.
Macdonald Old England Hotel and Spa
Church Street, Bowness-on-Windermere
For a luxury experience and somewhere you can take a dip, look no further than this excellent place. The Macdonald Old England Hotel and Spa combines a magnificent location, top notch facilities and tremendous comfort – giving you and your family a truly indulgent break in the Lake District. Situated in the picturesque town of Bowness-on-Windermere, this hotel is perfect for a family holiday that blends a wide range of activities. First of all, the Macdonald Old England Hotel is right on the shores of Lake Windermere, England's largest lake. So you can be absolutely certain of exquisite views that'll take your breath away. This part of the country is renowned for its stunning scenery, and you really get to experience the very best of it at this hotel. Furthermore, you also get to enjoy the lovely little town of Bowness-on-Windermere. Here, you'll find plenty of shops, pubs, restaurants and a stack of attractions to keep the kids entertained. There are loads of watersports and outdoor activities on offer, so you'll never be short of something to do.
The hotel features a beautiful indoor heated pool for when you want to take a dip. And if you want a break from the kids, there's an exquisite spa that's certain to leave you feeling pampered and utterly relaxed. They offer a range of treatments including massages and facials, and there are plenty of facilities to enjoy too, including a sauna, a steam room, and an ice room. The Macdonald Old England Hotel also boasts its own private jetty stretching out into Lake Windermere – an excellent way to experience this famous, stunning stretch of water. There's a restaurant on site with two prestigious AA rosettes, serving an ultra-modern menu comprising ingredients that are locally sourced and therefore as fresh as can be – you're guaranteed of a delicious meal. Finally, the rooms themselves are extremely comfortable with lots of modern amenities, including big beds, flat screen TVs and much more. A top Lake District family hotel, and a perfect base for a holiday enjoying the best the Lakes has to offer.
Red Lion Square, Grasmere
Famed romantic poet William Wordsworth called Grasmere in the Lake District his home for many years. The area is said to have inspired many of his most famous works – and it's plain to see why. This frankly breathtaking area of Britain is rich in natural beauty and majesty. It's also home to the fantastic Inn at Grasmere, a lovely little Lake District hotel that's family-friendly and has a swimming pool to enjoy. With a great location smack bang in the centre of the village of Grasmere, the hotel is in an ideal spot for exploring the local geography and attractions. You can visit Wordsworth's old house and enjoy a slice of rich, literary and cultural history. There are stacks of restaurants, bars and shops to enjoy. And the scenery? Well, it's jaw-droppingly beautiful. There are plenty of hills and fells surrounding the area, as well as Lake Grasmere, one of the most attractive lakes in the entirety of the Lake District. A great place to get back to nature with the family and see the world at its most untouched and majestic.
All rooms at the Inn at Grasmere are recently refurbished, ensuring you get modern, comfortable quality that'll have your whole family feeling happy and relaxed. The rooms boast en suite facilities with power showers, flat screen TVs, and free WiFi. There's also the 1769 Bar and Restaurant, where you can enjoy a tasty meal. The menu is packed full of delicious, contemporary dishes made from only the finest, locally sourced ingredients. The Inn at Grasmere is another hotel that's in one of our favourite spots for a family getaway. You can combine the very best of village life with loads of outdoor pursuits. There are some excellent hiking routes circling Lake Grasmere that really allow you to explore the surrounding area. And when you're done, you can have a nice, relaxing dip in the swimming pool and chill out in a big, comfy bed.
Thornbarrow Road, Windermere
Another Windermere pick, this family hotel in the Lake District, with a big indoor swimming pool, boasts unique views over the huge lake that you'll struggle to find anywhere else. It's in a special hillside location, affording you gorgeous aerial views of Lake Windermere and the surrounding rolling hills from high up. The best way to really take in all of this remarkable part of the Lakes. There's a wide range of different rooms available at the Hillthwaite hotel, meaning you can be really picky and find whichever kind of room suits you. From family rooms to suites, there'll be something here to accommodate your needs.
There are plenty of facilities to enjoy on site, including the aforementioned indoor swimming pool, a steam room and a sauna. There's also seating around the edge of the pool – so you can keep an eye on your kids playing in the water while you relax, chill out and have a drink or a snack. Of course, you won't spend the entirety of your holiday in the hotel – fortunately, there's plenty to do in the local area surrounding the Hillthwaite hotel that ensures you can have a fun, action packed family holiday in the Lake District. There's a wealth of brilliant hiking routes to explore the region. Windermere lake cruises let you get out on the famous body of water and really take in its beauty. Also nearby is The World of Beatrix Potter. This magnificent attraction brings to life all of the famed children's author's loved tales and stories. A perfect place for a family day out. And when you're done in fantasy land, you can enjoy a delicious meal in the Hillthwaite's opulent Dining Room restaurant. Specialising in local produce and top British cuisine, there'll be something you'll love on the menu, that's for sure.
The Langdale Estate, Ambleside
Experience the perfect Lake District family holiday for getting out there, exploring, and packing as many activities into your trip as possible. The Langdale Hotel and Spa is perfectly positioned to get you and your family out there and really enjoying all of the best things the Lake District has to offer. The hotel has teamed up with a number of external businesses that offer lots of brilliant, exciting Lakes experiences that'll help you create memories and try something new. You can try your hand at a bit of paddleboarding. This sport has recently seen a massive surge in new people trying it out, and you and your family could be the next new fans of this up and coming activity. You can get tuition and rental of all equipment, and an instructor will take you out onto the lake. It's a really fun sport for all ages, and it's one of our favourite things to do. And where better to do it than surrounded by famous waterways and stunning scenery. The hotel have also teamed up with plenty of other companies offering loads more outdoor activities, including biking tours, guided hikes, climbing, boat trips and much more.
The hotel itself is beautiful, and has a wealth of facilities of its own to keep you and the family entertained. It's got two swimming pools – both indoors and outdoors. So whether you fancy a relaxed swim inside or an invigorating dip while enjoying the remarkable location in the heart of the Lake District, the Langdale Hotel has got you covered. For adults, there's the Brimstone Spa on site. Here, you can experience a huge menu of treatments, and really unwind and get yourself feeling relaxed. The ideal tonic after a busy day out and about with the kids!
The Castle Inn Hotel by BW Signature Collection
This is the kind of Lake District family holiday that's ideally suited to anyone who wants absolutely everything they need to have a good time right on their doorstep. You really don't need to leave the hotel to have an amazing time at The Castle Inn. They've packed a frankly gigantic selection of activities into their grounds, giving you and your family plenty to stay entertained. Of course, it's got a big indoor pool to enjoy. But that's just the beginning. There's a lovely, well kept lawn tennis court surrounded by gardens – a wonderful setting for a game. A 9-hole putting green is great for practicing a bit of casual golf, and is suited to experts and novices alike. A full gym is great for getting the blood pumping and keeping up with your exercise routine, while a sauna and steam room are good for relaxing in after a workout. There's a games room with a table tennis table, as well as a computer games hub, which will entertain the kids on rainy days. Croquet, chess, board games, fishing and more are all also on offer – you will never be short of something to do.
This excellent family-friendly Lake District hotel with swimming pool has a variety of rooms for you to choose from. We love the family rooms at The Castle Inn, with big hotel rooms on offer with a separate bedroom for the kids – you can all stay together but still enjoy a bit of privacy. Rooms come with all the modern amenities you'd expect, including some wonderful aromatherapy toiletries that'll make having a bath or shower feel like an extra special treat. The on site restaurant, Ritson's, has an extensive, eclectic menu that includes both classic British staples and some international favourites. And we couldn't sign off talking about The Castle Inn without mentioning the exquisite Cumberland breakfasts that are both delicious and will leave you feeling more than full right up until lunch. One of our favourites.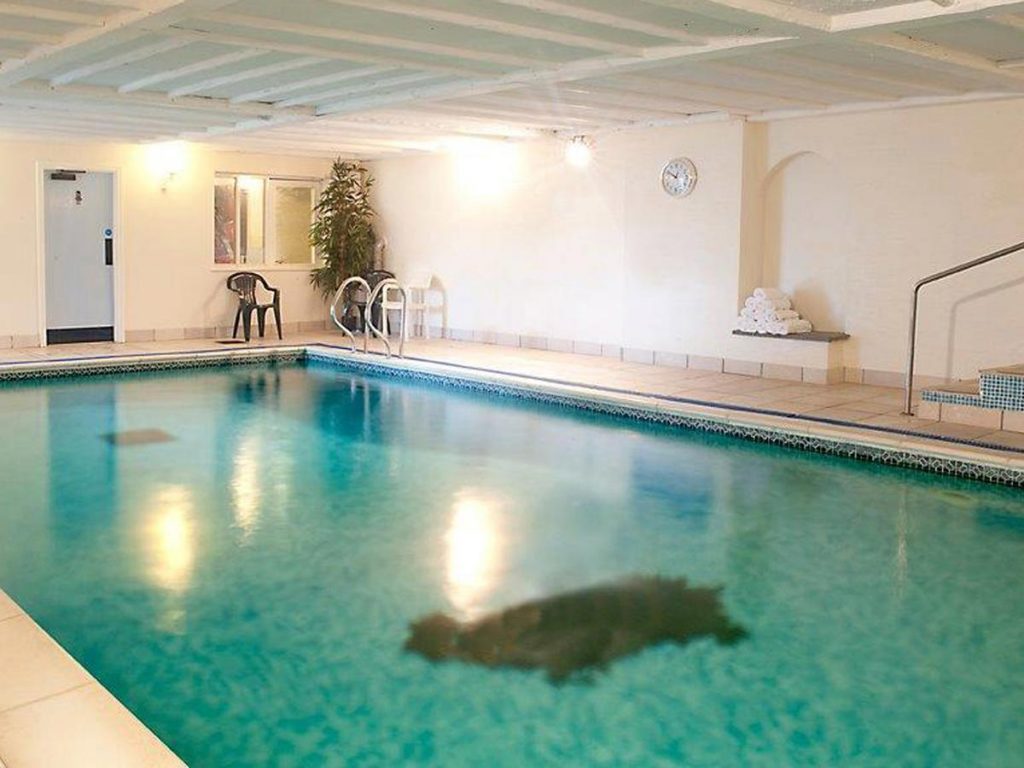 The Damson Dene Hotel represents affordable luxury for you and the whole family. Located in a wonderful, central spot not too far from Windermere, it's a stone's throw away from a whole world of different attractions. It's also got a lovely indoor swimming pool which you can use, along with a sauna, Jacuzzi, and also a spa that offers excellent massage treatments to leave you feeling pampered. As we said though, the real brilliance of this hotel lies in its proximity to a staggering amount of top Lake District attractions. There's Lake Windermere itself, of course, where you can go on boat rides and enjoy plenty of watersports. At the nearby Windermere Golf Club, you can play a full 18-hole round while enjoying unrivalled views of the local scenery. The World of Beatrix Potter and the Lakeland Motor Museum are both nearby for some more educational activities with the kids. And the Lakes Aquarium is excellent for an underwater day out. One of our personal top picks for an activity in the area is the Lakeside and Haverthwaite Railway, where you can board an old school steam train and take a trip through the majestic Lake District hills.
Rooms here come at affordable prices but are comfortable and modern – ideal to relax in after busy days exploring and enjoying the Lakes. The hotel's Heron View restaurant is in a breathtaking setting – you can enjoy a delicious meal while looking out upon a divine view. One of our top all-rounder hotels that gives you plenty of activities, a swimming pool, and the maximum in comfort.