As far as natural landscapes go, the Lake District has to be one of the most beautiful in the whole world. Lovers of the great outdoors flock to the Lakes at all times of the year to experience the fullness of this naturally beautiful part of planet Earth. And with good reason – not only is it beautiful, but it's also an incredibly varied place in terms of the landscapes and terrains you can explore. Whether its commanding mountains, billowing lakes or rocky hillsides you want to explore, the Lake District can offer it all.
As such, this part of the country is an absolute haven for walkers, and there are plenty of places to stay in the Lake District for walking. There are tons of different routes you can take, and it's one of the best locations out there for a walking holiday. In this article, we've outlined some of the best hotels that serve as perfect bases for ramblers who are looking to get out and enjoy the very best of the Lake District on foot.
It's at the very forefront of this hotel that it's ideal for walking. They themselves describe it as 'the perfect base for lakeland walks'. And they're not wrong. The Mortal Man Inn, situated in Troutbeck, is conveniently located for offering easy access to a range of different walking routes, for ramblers of all abilities. First and foremost, it's excellent for fell walkers. The Mortal Man Inn is very close to the primary walking route for those wishing to attempt the challenging Kentmere Round, or Kentmere Horseshoe walk. This is one of the most remote, isolated walks in the entirety of the Lake District. It also happens to be one of the longest too. Traversing a range of terrains, regularly ascending and descending, this walk is not for the faint hearted. But if you're game, it's not to be missed either. Because on account of it being one of the most remote walks in the Lakes, it's also one of the most peaceful and tranquil. You'll really benefit from a feeling of getting back to nature, separated from the normal world and cut off from modern society and the problems that come with it.
That's our favourite walk local to the Mortal Man Inn, but there are plenty of other options too. It's near to Lake Windermere, so you can walk the edges of the famous great lake – the largest in the Lake District. Also nearby are walking routes up Helvellyn mountain. We should probably talk a bit about the hotel itself too and not just the brilliance of the surrounding area. The historic hotel is in an old school Lake District ale house dating all the way back to 1689. It's on record as having been a favourite meeting place of literary greats William Wordsworth and Samuel Taylor Coleridge, both of whom penned some of their very best works while living in the Lake District. You can see why, given the location. The Mortal Man Inn boasts breathtaking views. It's beer garden might just be one of the most picturesque in the country, and the wide range of homely ales and beers they serve are perfect to unwind with after a long day out walking and exploring the Lake District.
The quaint rooms at the Mortal Man Inn provide maximum comfort. Soft beds are great for recharging in and resting weary limbs. The comfortable rooms also feature televisions and tea and coffee making facilities. They're basic, pleasant rooms that provide everything you need. And when you get hungry, the food at this hotel is superb. With a delicious, hearty pub menu brimming with classic dishes, you can enjoy a homely meal that'll give you enough energy for a full day out on your feet, or an evening dinner to fill you up after a long day working up an appetite. The portions are massive!
A top-notch stay away from the busy, buzzing tourist areas, designed for serious walkers. The Kirkstile Inn is an excellent hotel in its own right. It features stunning, newly refurbished bedrooms that provide optimum comfort and make you feel right at home from the moment you walk in. There's a wide variety of different bedrooms to choose from to meet all of your walking holiday needs. Twin rooms are on offer if you're getting away with a friend to explore the Lakes. A four poster room is a good romantic option for couples, and there are also family rooms on offer if you're wanting to take the whole family away to enjoy the great outdoors. Set in a traditional 17th-century lakeland inn, this place has a really classic Lakes vibe.
It is, of course, in a simply beautiful location for walking. It's nestled away from some of the busier walking routes you might find in the Lake District, so the Kirkstile Inn is the ideal place to stay if you're looking for a more tranquil walk out in the Lakes. There are plenty of neighbouring fells to explore, and there's also a walk directly from Kirkstile itself around Buttermere lake, one of the most untouched, unspoiled spots in the entirety of the region. One of the best and most prestigious walks you'll have easy access to from the Kirkstile Inn is the ascent up Great Gable mountain. It can be a complex route and is recommended for more experienced walkers, but it's worthwhile when you reach the summit – as far as the eye can see, you'll be able to view majestic lakes and commanding fells.
Finally, we should mention that the food at the Kirkstile Inn is properly hearty, filling home-cooked produce. They've got a creative, talented kitchen team that are committed to producing classic dishes done properly – and at affordable prices that won't cost an arm and a leg. So whether you're after a gorgeous lamb shank or a traditional shepherd's pie, there's plenty to choose from. Delicious roast dinners are also served every Sunday, as well as a seasonal specials board that changes daily. The Kirkstile also has its own brewery, meaning it serves the very best cumbrian ales and beers for you to sample.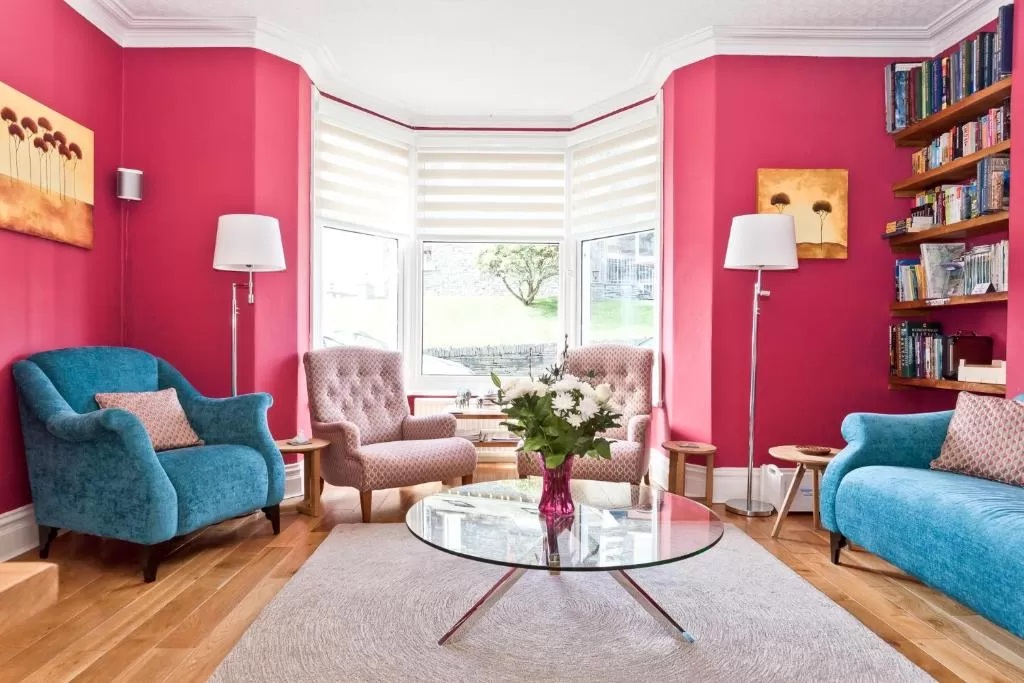 A sleek, modern B&B just a stone's throw from everything you could want out of a Lake District holiday. Howe Keld is situated in Keswick town centre. Keswick, well known as one of the outdoor pursuit capitals of the country, offers a huge variety of activities. From canoeing to kayaking, from paddleboarding to abseiling and beyond, the range of things you can do in Keswick is frankly staggering. But first and foremost, Howe Keld's Keswick location makes it one of the best places to stay for walking in the Lake District. It's a very short walk from the peaceful Derwentwater lake, which is a hot spot for water sports – but also perfect for a lakeside ramble around the periphery.
The B&B is also an ideal base for walking trips up the nearby Skiddaw mountain. Skiddaw, despite being one of the largest and most commanding mountains in the Lakes, is actually one of the easiest to ascend, thanks to a well-trodden, widely used footpath winding to the summit. As such, Howe Keld is a perfect base for any novice walkers who are looking to enjoy a Lake District walking holiday without anything too challenging. Also good for families, you'll be able to leisurely ascend the mountain and enjoy the breathtaking views from the peak without coming across any difficult obstacles. Another family favourite, the Cat Bells walk, is nearby to Howe Keld too, so there are plenty of magnificent routes to choose from, with this one offering stunning panoramic views of Keswick, Derwentwater, and the surrounding fells.
The rooms at Howe Keld are modern and stylish. Their design is inspired by the Alpine chateaus you'd expect to find at ski resorts in Switzerland, and as such they're sleek, comfortable, and unbelievably cosy. The perfect place to wind down after a busy day outdoors, they feature gigantic beds that really let you sprawl out and drift off. Howe Keld is also a unique base for a walking holiday in the Lakes thanks to its location within a town centre. While Keswick is close to some of the best walking routes in the region, it also boasts a bustling centre full of bars, restaurants and shops. Thanks to this, Howe Keld is perfect for amalgamating a bit of the great outdoors with some modern amenities. Last but not least, Howe Keld also offers a delicious breakfast menu with some more continental options as well as a full Cumbrian breakfast packed full of local ingredients.
The Langdale Hotel and Spa
The Langdale Estate, Ambleside
For any walkers looking to blend some fantastic, breathtaking Lake District routes with a touch of luxury comfort, then this is the place to stay. The Langdale Hotel and Spa gives you the best of both worlds. Situated on its own 35-acre estate, the Langdale Hotel is perfect for cutting yourself off from the normal world and getting away from it all and back to nature. Seasoned fell walkers will be delighted by the Langdale's proximity to the famous Old Man of Coniston circular walking route. This legendary walk takes in some of the Lake District's most popular sites en route, and is a top choice for anyone looking to enjoy remarkable panoramic views of this beautiful part of the world. The views even encompass sights such as Scafell Pike (England's largest mountain), the Pennines and as far out as the Isle of Man.
We should talk about the accommodation at the Langdale. Because whatever you're after, the chances are that this stunning hotel estate will meet your needs. The hotel building itself is opulent and contains a wide range of classic hotel rooms and suites. But also on site on the Langdale's estate are a bunch of 5-star self catering lodges, cabins, and cottages. For a more laid back affair and a holiday on your own terms, these are the perfect choice. These unique lodges are packed full of luxury, modern facilities and will have you feeling at home in an instant.
Also on site at the Langdale Hotel is its Brimstone Spa. Exclusively for residents, there's no better place to relax and reinvigorate your weary body after a hard day exploring the local terrain on foot. Here, you can enjoy a range of massages and spa therapies that'll soothe you and leave you feeling refreshed. Elsewhere on the estate are other leisure facilities, including an indoor heated swimming pool and also a gym (which we'll forgive you for not using if you're out and about exploring the local fells all day every day). Delicious food awaits at the Stove Restaurant and Bar, with a specially cultivated menu of old favourites and some contemporary French dishes, as well as some international classics.
This traditional, 17th-century lakeland inn may well be the accommodation most tailored to walkers in the Lake District in this entire list. The Queen's Head Hotel is very much aimed at walkers and those wishing to explore the Lakes. The comfortable, cosy rooms – some dog friendly – are modern and extremely welcoming, and will be a welcome indoor haven after you've spent the entire day out and about on your feet. Big beds with crisp linens, ensuites and flat screen televisions all come as standard, and the staff at The Queen's Head really go all out to ensure walkers are made to feel welcome. They offer boot bags for muddy boots if you've been out in bad weather, packed lunches to take out with you so you can eat on the go, and even some printed walk guides to help you explore the local area and experience something a little different within the local landscape.
Aside from their own printed walks that they offer, The Queen's Head Hotel is also extremely near to the beginning of the National Trust's popular Townend and Troutbeck Valley walk. This stunning circular walk gives you panoramic views of Lake Windermere, the surrounding fells, and plenty of unique sights you'll find and enjoy along the way. There's private parking at the hotel, so getting there in the car is made easy. Furthermore, the seasonal pub grub on offer at The Queen's Head is hearty, filling, and the perfect tonic when you're weary after a long day out exploring.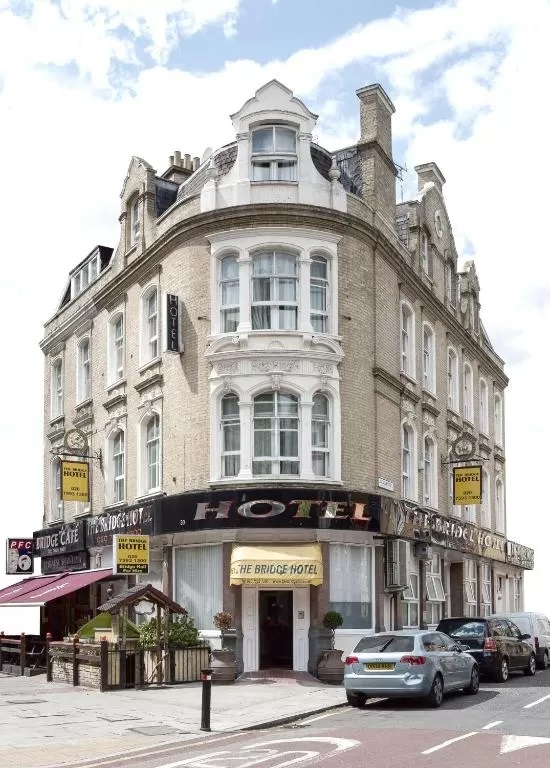 If getting away from civilisation and all the entrapments of modern life is what you're after, then the Bridge Hotel in the heart of the Buttermere valley might just be the best place for you. This is in a brilliant spot, and is one of the best places to stay for walkers in the Lake District. That's because its idyllic, isolated location far away from big towns and villages means it's smack bang in the middle of sprawling Lake District terrain stretching as far as the eye can see – perfect for exploring. It's also great for forgetting about normal, everyday life and really immersing yourself in the moment and the breathtaking natural location. The Bridge Hotel prides itself on being very much cut off from the rest of the world. As such, one of its quirkier features is that it's got no televisions, no radios and no mobile phone signal – a true, legitimate escape.
The hotel is dog friendly, so if you're looking to take your canine away on your Lake District getaway then you can. There are too many spectacular walking routes in this area for us to list all of them, but one of our favourite places to explore is the nearby Crummock Water. This picture-perfect lake is rumoured to be one of the most photographed spots in the entirety of the Lake District, and when you see it for yourself it's easy to understand why. The twinkling expanse of the lake itself is framed by valleys, woodlands and fells. One particular sight to look out for is the so-called 'secret valley' of Rannerdale, where a legendary battle is said to have once taken place between local settlers and the invading Normans. It's now covered in gorgeous bluebells, and walking beside it is a feast for the eyes. The woodland leading down to Crummock Water is also a haven for red squirrels, so if you're lucky you might catch a glimpse of one of these rare creatures while you're out on your walk.
The Mill Beck Dining Room at the hotel is an ideal spot to get some rest and relaxation after a busy day out walking and taking in the local scenery. A traditional menu is served with plenty of classic dishes. And if you do need to touch base with the outside world, the hotel does provide complimentary WiFi, so you're won't be totally cut off – unless you want to be! Breakfast is available as an add-on for all rooms, and the hotel also has a variety of self catering accommodations on offer, if you want more of a relaxed, do-it-yourself walking holiday in the Lakes.
Last but not least on our list of top places to stay in the Lake District for walking is the Cuckoo Brow Inn, surrounded by local history and top-class scenery. Just three quarters of a mile from the home of legendary children's author Beatrix Potter, this is in a prestigious location that's steeped in culture. The remarkable location is perfectly suited for long, winding countryside walks exploring the inspirational terrain and landscapes of this area of the Lake District. Just a short distance from three top Lakes locations – Hawkshead village, the town of Ambleside, and the majestic Lake Windermere – you've got a wealth of places to explore. The marauding walks around Windermere are not for the faint hearted, but will give you spectacular views of one of the world's most famous bodies of water.
In Ambleside, you'll find a classic lakeland town centre with plenty of shops, pubs, restaurants, and other amenities to enjoy. And from Hawkshead there are numerous walks to set out on – including our personal favourite, the Tarn Hows walk. This six-mile, circular walk encompasses both open valleys, countryside and woodland, and is a great way of seeing the versatile, eclectic landscapes that this part of the world is famous for. And you'll also enjoy some striking views of some of the region's most famous fells en route.
Rooms at the Cuckoo Brow Inn have been designed with comfort in mind, and offer everything you need to wind down and relax after a long, challenging walk. All have ensuite facilities, and there's also a bar and dining room for grabbing a well deserved pint or an evening meal. An ideal spot for walkers in the Lakes.